Chenshan Botanical Garden
The Chenshan Botanical Garden in Shanghai, which spans 2.07 million square meters, features beautiful landscapes and is an important research base with its numerous Chinese and foreign plants.
The garden, co-established by Shanghai Municipal People's Government, Chinese Academy of Sciences and State Forestry Administration, provides visitors with spectacular scenery in each season, as it is home to about 90,000 distinctive plants and flowering species. It has also become a base for people of all ages to learn more about nature.
Tianma Mountain Park
Be an adventurer and scale Tianma Mountain, the tallest mountain in the area. Tianma literally means "Heavenly Horse". the mountain got this unusual name because locals thought it looked like a flying horse. As you climb the mountain, which is also known locally as Gan Mountain, you'll find luxuriant plants and many historic temples such as Huzhu Pagoda and the Light of Buddha, which still draw many worshipers.
Tianma Country Club
If you are fond of golf, camping, tennis, in-line hockey, swimming, football, horse riding, farm work, manual work and sketching, Tianma Country Club is a family-friendly destination.
Highlights include stunning landscapes, restaurants, a golf course, a football pitch, tennis courts, rock climbing, swimming, a fitness center, shops, a farmstead, a funfair for children, tea shops and barbecue restaurants
Address: 3958 Zhaokun Highway, Tianma town, Songjiang district, Shanghai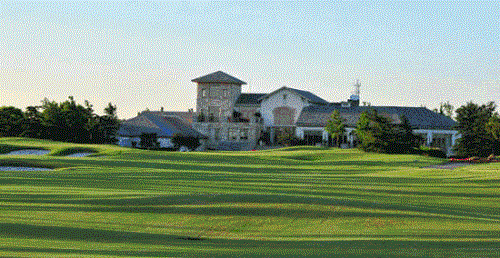 The club is widely known as one of the best private golf clubs in Shanghai. [Photo provided to China Daily]