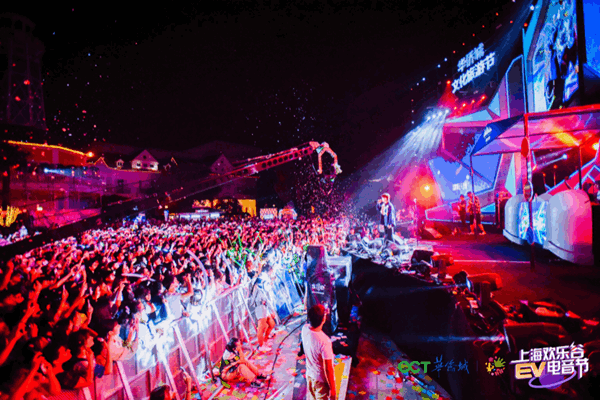 The Shanghai Happy Valley EV Electronic Music Festival is held every summer. [Photo/WeChat account: shanghaihappyvalley]
The 2021 EV Electronic Music Festival, a popular summer event in Shanghai Happy Valley, will be held from July 10 to Sept 12.
Last year's festival was named one of the 15 most popular events in 2020 based on an online vote by Shanghai residents, according to the local culture and tourism bureau.
This year, the festival will feature popular stars and a host of nighttime entertainment activities. More famous musical artists from China and overseas will give performances during the festival, according to the organizer.
This year's event has a space theme, so the main stage is designed to look like a spaceship, with an instrument panel and an ejector featured prominently.
From Aug 13 to 22, a large-scale drone light show will light up the sky at night and parties with a variety of different themes will be held every two weeks during the festival.
Shanghai Happy Valley consists of seven themed areas and various entertainment facilities. Parades will be held at the entertainment park during the festival.
Address: No 888 Linhu Road, Songjiang district, about 28.8 km from downtown Shanghai
People dance to live music. [Photo/WeChat account: shanghaihappyvalley]